Wedding
Bespoke Bridal by Hadleigh's
As Seen in Modern Luxury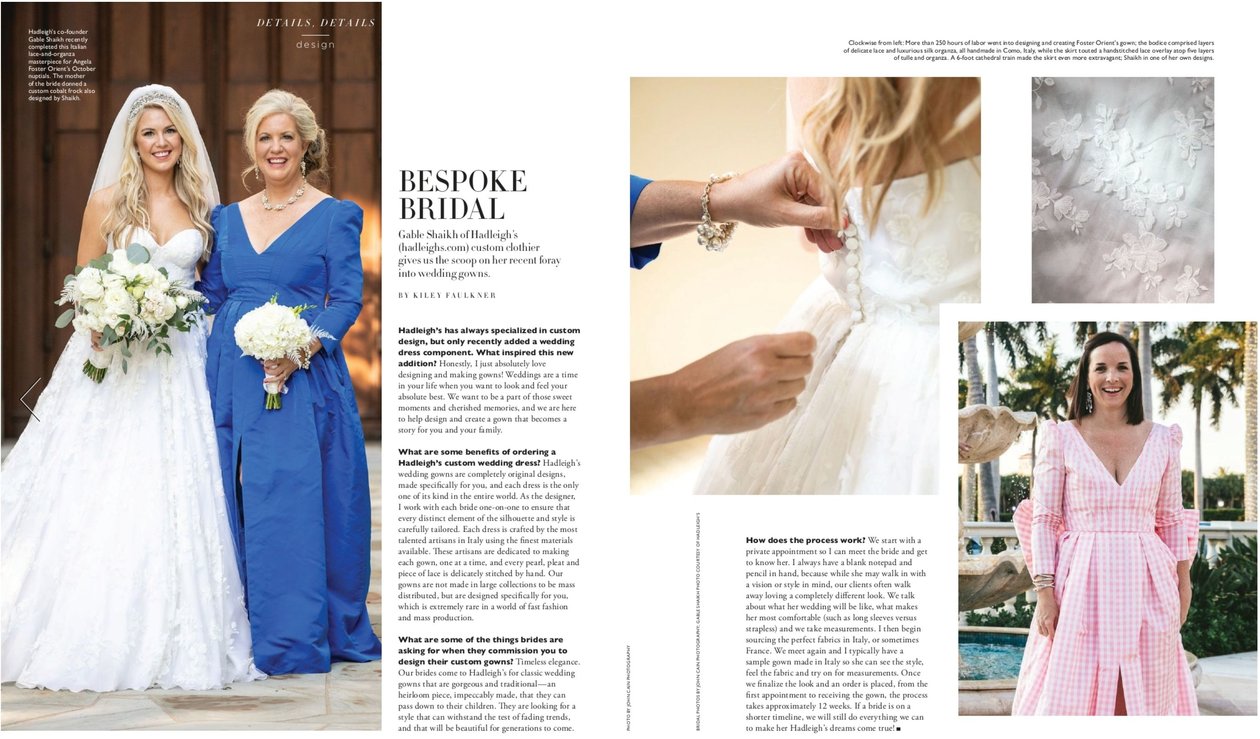 Hadleigh's Bespoke Wedding Suiting and Gowns 
A celebration marked by love, commitment and those you hold most dear, weddings are a once in a lifetime occasion that deserve an unparalleled experience and looking your absolute best. Make every detail perfect and mark such a memorable event by investing in sartorial quality that will lead to a lasting legacy of memories and style. 
Bespoke Suiting and Tuxes
Classically timeless, perfectly tailored and modernly masculine, enlist the help of Hadleigh's revered menswear designer, Ed Shaikh, to help with completely custom suiting and tuxedos. All men, whether the groom himself, the father of the groom, or the wedding party, are invited to experience the ultimate luxury of sartorial suiting and bespoke tailoring. Only the best, as the most special occasions demand. 
Designed using the highest quality fabrics you carefully select by hand with the help of Ed and his team of experts, gentlemen have personal measurements taken at a private appointment. Whether at the intimate atelier in Highland Park Village in Dallas, Texas, in Hadleigh's New York Tailoring Penthouse on Madison Avenue, or having the HTEAM come to you, private consultations are scheduled leading up to the occasion to determine your personal style and conduct fittings in order to accomplish nothing less than perfection. Sure to last for many memories to come, your bespoke menswear will be a prized possession marked by pride and perfection. 
Couture Wedding Gowns and Dresses
Special moments call for one-of-a-kind couture creations. Brides, mothers of brides or grooms, and guests of formal occasions deserve nothing less than feeling as gorgeous as she looks in a gown that is designed specifically for them - a timeless look of the utmost quality that can become an heirloom piece, worthy of handing down for generations to come.
Intricately crafted with each elegant detail being cut, sewn and assembled by hand to perfectly compliment each lovely lady and beautiful bride, Hadleigh's bespoke gowns are personally designed by the brand's founder and womenswear designer, Gable Shaikh. Italy's most talented couture artisans are then dedicated to making each gown, one at a time, and every pearl, pleat and piece of luxurious Italian lace or soft silk is delicately stitched by hand. 
A heartfelt collaboration between the designer and client, each gown designed by Hadleigh's is made with passion, precision and distinct personal touches, offering classic style that can withstand the test of fading trends.